LINEATION
Lineations are fabric elements in which one dimension is much longer than the other two. There are three general types of lineations: (i) Form lineations - those that are a manifestation of the occurrence of other structures (e.g. folds or boudins) (ii) Mineral lineations- those that are a product of the shapes of mineral grains or clasts in rocks and (iii) Surface lineations - those that occur on surfaces or are a result of the intersection of two surfaces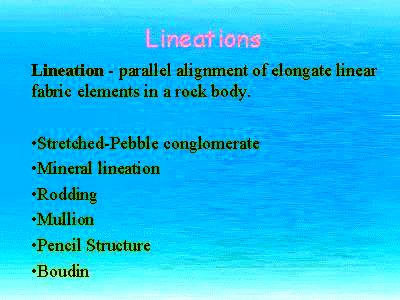 LINEAR ELEMENTS
Lineations are fabric elements in which one dimension is much longer than the other two. There are three general types of lineations: (i) Form lineations - those that are a manifestation of the occurrence of other structures (e.g. folds or boudins) (ii) Mineral lineations- those that are a product of the shapes of mineral grains or clasts in rocks and (iii) Surface lineations - those that occur on surfaces or are a result of the intersection of two surfaces
LINEATIONS, AS RELATED TO STRAIN
The lineations such as the surface type may directly not bear any relation with the finite strain but indirectly they do. All mineral lineations are generally believed and in some cases unequivocaly proved to have formed parallel to the maximum stretch of the finite deformation ellipsoid. The boudin lines may lie normal to the maximu stretch since these are surface traces of extensional gaps or wide cracks subperpendicular to e1. So are the mullions or quartz rods or the hinges of crenulations or micro buckles.
LINEATIONS, INTERSECTIONS
Intersection lineations are formed by the intersection of two planar surfaces, such as bedding and cleavage. However, in the photograph on the western limb of Shyamgarh antiform, these appear to be derived from the intersection of a crenulation cleavage and initial gneissic banding. At some places where felsic component is small in proportions, these merge with the hinges of crenulations. In cylindrical folds, if the cleavage is parallel to the fold axial planes, the intersection is parallel to the fold hinge line.