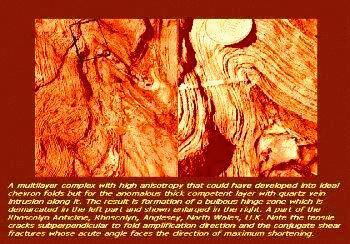 CHEVRON FOLDS, BULBOUS HINGE ZONE

Hinge collapse differs from bulbous hinge zone in the mode of displacement of competent layer. In hinge collapse the displacement is towards the inner arc while in the bulbous hinge zone, it is away from the inner arc.

The rectangular portion in thr lrft hand side photograph is enlared and shown to the right. The photograph is from the Caledonian felt in Rhoscolyn, Anglesey, North Wales.