PALINSPASTIC CONSTRUCTION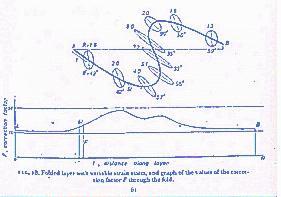 Balanced Cross Sections
A cross section with internally consistent geometry: Concepts of balancing cross sections applies to all kinds of faulting and deformation, but was first developed in thrust systems.
Requirements:
Balance occurs when bed lengths and cross-sectional area are equal in both deformed and undeformed state (except with volume loss due to consolidation and dissolution
Structures drawn on section should be those observed in outcrop or limited to geologic structures expected in a particular environment.
Cross section must be able to be restored to undeformed state. That is, removal of deformation should result in group of undeformed sedimentary rocks with expectable geometry
Approaches
Line-length and area balancing
Depth to detachment calculation--an outcome of area balancing
Value
Fault displacement established
Section may be correct
If it doesn't balance it can't be right. If it balances the cross section a possibly correct, acceptable solution.