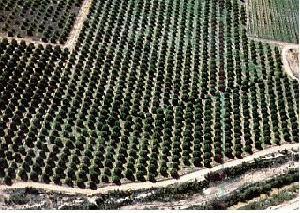 SAN ANDREAS FAULT, RECENT ACTIVITY ALONG
San Andreas fault, the most studied fault in the world is an intracontinental transform fault and shows present day or neotectonic activity. It is the eastern boundary of Juan de Fuca plate. This photograph taken from a book shows the displacement of the neat rows of orange plantation displaced because of the present day activity.
Another fault that is presently active and also intracontinental transform fault is the Alpine fault in New Zealand about which you can find some information in this assembly.