SHEAR STRAIN
Generally this is the rotational component of strain. Shear strain measures the change in the angle between lines that were initially perpendicular in the undeformed state.
If two initially perpendicular lines are deformed so that the angle between them in the deformed state becomes (90-psi ), the shear strain gamma = tan psi and psi = the angle of shear or angular shear strain.
The figure shows the case of brachiopod in which hinge and midrib are perpendicular to eachother in undeformed state
SHEAR STRAIN, ANGULAR
A line drawn on the side of a deck of cards has rotated because of sliding parallel to the cards through an angle psi called angular shear strain. The line and deck cards were initially orthogonal to eachother.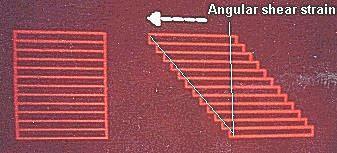 SHEAR STRAIN, GAMMA PRIME